As the curtains rose on W.E.4 Fashion Day during Berlin Fashion Week, Danny Reinke launched his remarkable Spring/Summer 2024 collection, "LUSTGARDEN." A prêt-à-couture journey inspired by the illustrious triptych "Garden of Delights" by Dutch painter Hieronymus Bosch, the collection transforms the artwork into a utopian dreamscape—a paradise of love where positive emotions fuel sexuality. In a bold exploration of contradictions, "LUSTGARDEN" becomes a symbolic reflection of gluttony and lust in contemporary society.
The Allure of Rosé Tones
Central to the SS24 collection are rosé tones in various nuances, artfully combined with shades of blue, green, greige, and white, adorning luxurious silk fabrics like dupion, satin, and chiffon. The heart of the collection lies in its exclusively created prints that breathe life into the title "Lustgarden." Drawing from the masterpiece by Hieronymus Bosch, fragments of the painting are meticulously transferred, expanded, and reassembled to form captivating patterns. Explore eFab Summer Edition now!
The profound theme of the collection stems from a museum visit, highlighting Danny Reinke's commitment to meticulous research, a cornerstone of his creative process. At the heart of the label lies an unwavering dedication to craftsmanship, with each garment and detail meticulously handcrafted in the Berlin atelier. For this collection, Reinke collaborated with a couture tailor from Paris, resulting in key pieces like a dress adorned with over 300 hand-crocheted flowers and leaves or a voluminous tulle dress in delicate pink.
Danny Reinke Breathing Life into "Lustgarden"
On the grand stage of the Verti Music Hall on July 11, 2023, Danny Reinke showcased the collection for the first time during W.E.4 Fashion Day—an official part of Berlin Fashion Week. The event is supported by the Berlin Senate Department for Economic Affairs, Energy, and Public Enterprises in collaboration with the Fashion Council Germany, celebrating Reinke's artistic brilliance and creative vision.
BIJOU BRIGITTE x Danny Reinke
In a remarkable brand cooperation, Danny Reinke joined forces with BIJOU BRIGITTE for the first time. Reinke ingeniously repurposed returns and rejects from the jewellery brand, breathing new life into them as unique key pieces that perfectly complemented the collection's mood. The jewellery pieces, sculpturally conveying the collection's theme, showcased Reinke's commitment to sustainability and creative ingenuity.
With a strong focus on environmental responsibility, Danny Reinke produces exclusively in Berlin, using materials primarily sourced from the EU. The label prioritises high ecological standards, ethical working conditions, and short supply chains, ensuring a production process that is environmentally friendly. The collections feature one-of-a-kind pieces meticulously handmade in the Berlin atelier, reflecting Reinke's dedication to durability and unparalleled quality.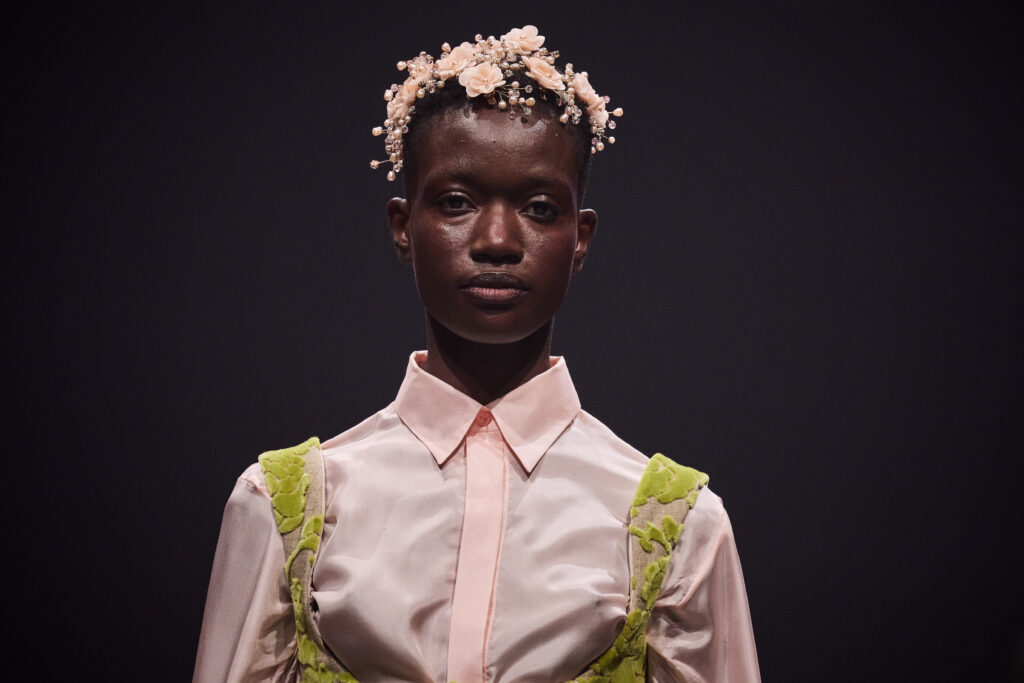 A Paradise of Love and Positive Emotions
As "LUSTGARDEN" unfurls its dreamscape, Danny Reinke invites us into a world where utopian delight meets conscious creation, celebrating the beauty of contradictions and the boundless allure of imagination. Stay up to date on the newest in the world of Fashion, Arts, Beauty and Lifestyle; Follow FAB on socials.