Urban women, regardless of age, may continue to express and luxuriate in their feminine strength thanks to the Cukovy's exceptional flexibility and distinctive design alternatives, which were launched in 2014. Cukovy employs common motifs and draws inspiration from daily life to create wearable pieces of art. Finding the optimum balance between herself and her art is the cornerstone of Flora Popradi's design philosophy as the chief designer for Cukovy products. This quest for equilibrium is not too far removed from Flora's experience growing up with a mother from Nicaragua and a father from Hungary. This phenomenon broadened and shaped her brain and personality.
Flora's BA graduation collection was once showcased at Designer's Nest during Copenhagen Fashion Week. Her multifaceted personality and insatiable curiosity enable her to effortlessly translate stories into forms and colours. A gift that has taken her to several places around Europe, including Barcelona, Copenhagen, London, Paris, and now Budapest. The Fabl'style crew chatted briefly with this eclectic designer to learn more about her background, creative process, and brand.
Fab: How did you get your start in fashion design?
Flora Popradi: Being born in Budapest to a Nicaraguan mother and a Hungarian father opened and shaped my mind and personality to be sensitive to life's contrasts. I chose fashion design because of my strong storytelling skills and creativity, which led me to try myself out as a costume designer, a stylist, and an art director.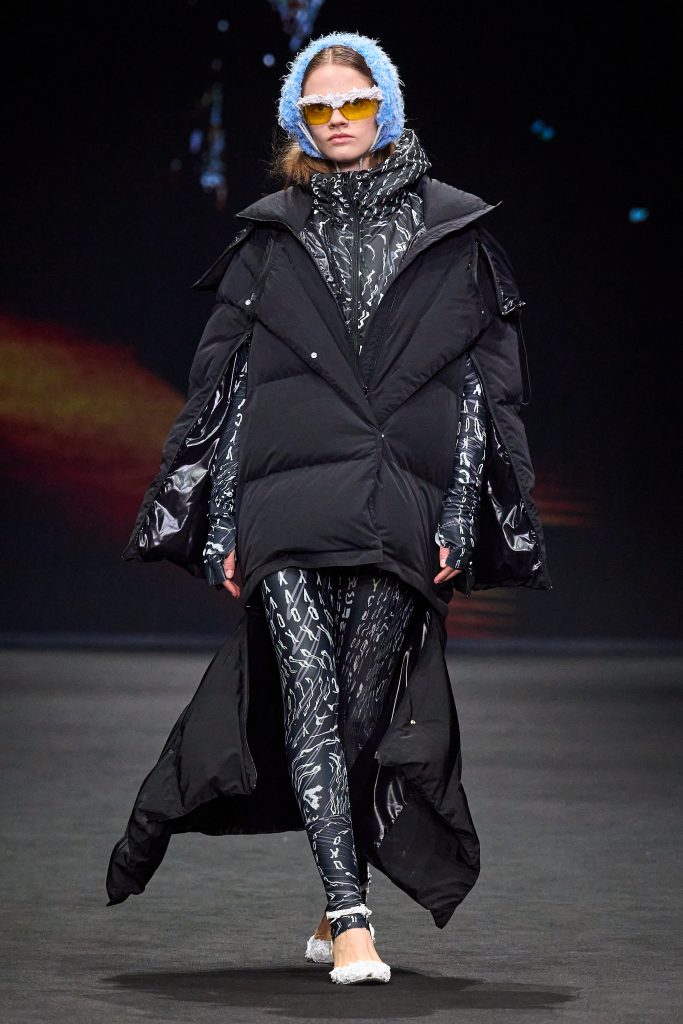 Fab: How would you describe your brand's aesthetics? What work are you most proud of?
Flora: We design for metropolitan women who are really able to show and enjoy their feminine power, regardless of their age. We aspire to design pieces that can be worn in different ways and that are playful and aesthetically bold.
I am most proud of the opportunity we had at Milan Fashion Week, where the FW22 collection's scheduled presentation took place last year. Explore PLAY, FW22 collection from CUKOVY.
Flora Popradi's Creative Process
Fab: What approach do you employ when you start a design project? And how do you overcome creative blocks?
I love taking photos while walking around the city, so I usually browse through them before I start a creative project, then do research in the library and analyse last year's sales and trends. About the creative block, I think sometimes you just need to rest and do nothing. I find that the best ideas come to me when I am not trying too hard.
Fab: Flora, what's fashion to you—what's your own definition of fashion?
A visual reflection on socio-economic and political changes
Fab: The exchangeable elements (sleeves, hoods), which can be combined with any CUKOVY piece, are something that intrigued us. What paved the way for this? Take us through the creative process.
Flora Popradi: We wanted to create sustainable pieces that are playful and can be worn over and over again without making you feel bored. Our aim was to challenge our customers to express their individual and unique styles.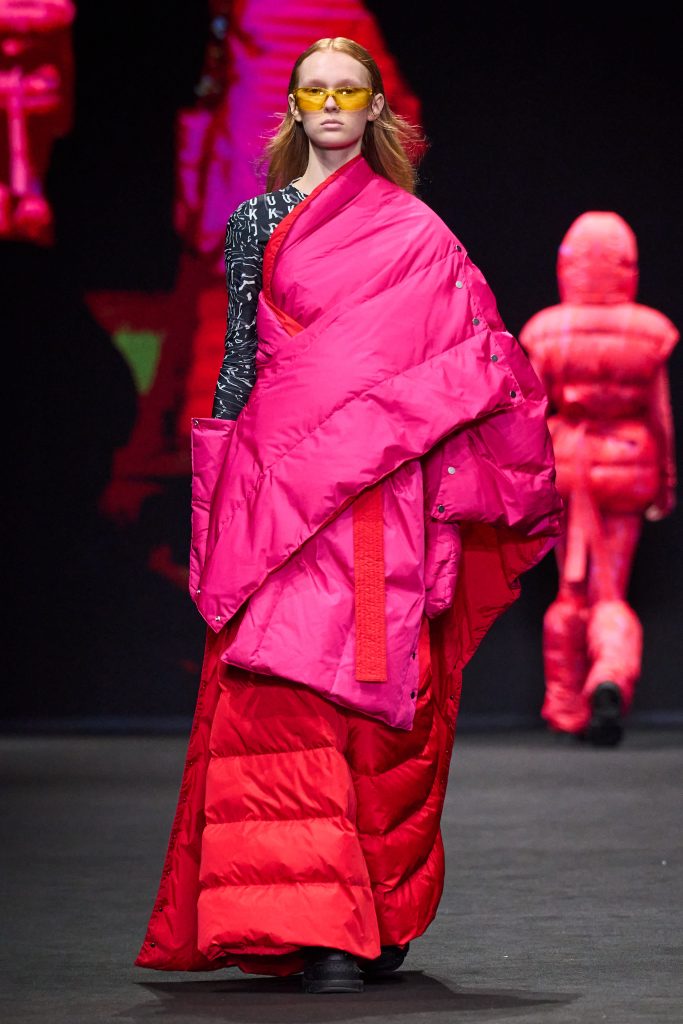 Fab: Let's talk about "Cone of Silence," your most recent collection. What provided the inspiration for it?
Flora: The concept of function is finding its way back into our everyday lives. This need for practical yet fashionable pieces became the basis for CUKOVY's collection with modular elements, detachable accessories, and versatile design. Dominated by earthy tones and warmer shades, the collection features soft and comfortable silhouettes and bold combinations of matte and shiny fabric. Last year's silhouettes shifted into a more loose-fitting, comfortable shape while still representing the longed-for inspiration of future nostalgia.
Fab: How do you safeguard your physical and emotional health when facing a difficult situation?
Flora: By going to weekly therapy sessions, taking magnesium, and repeating daily affirmations.
Fab: Do you have a preferred type of material that you always choose to work with?
Flora Popradi: Since we are an outerwear brand, we are quite limited in fabrics, but I love playing with colour blocking and clashing prints.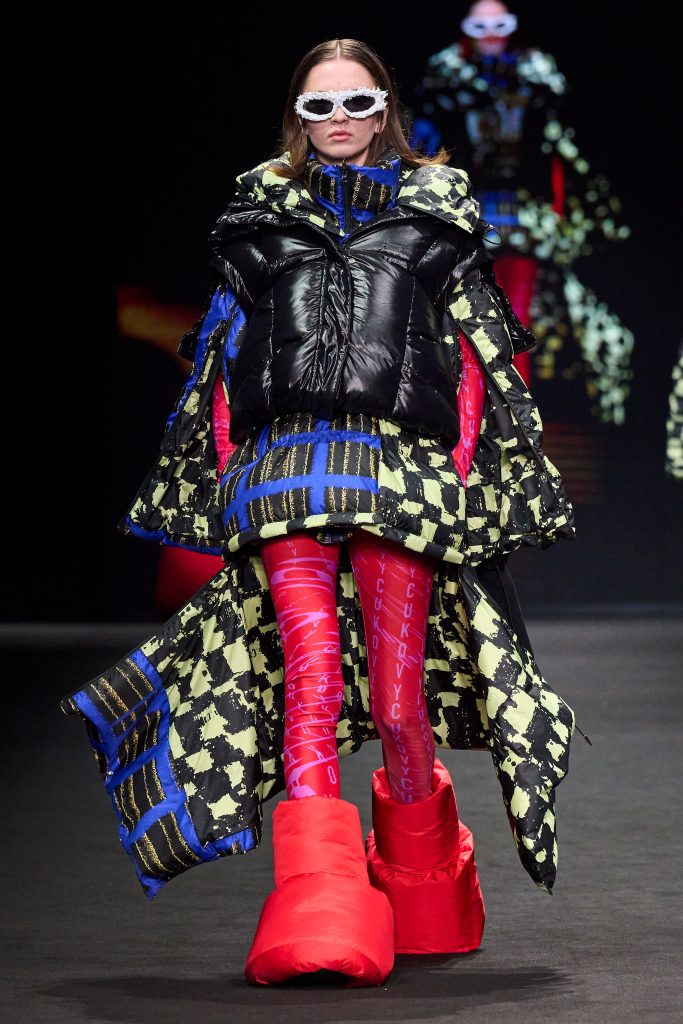 Inspire
Fab: As a fashion entrepreneur, how would you define your role in society?
Flora: Our main responsibility is to educate and influence the customers to make conscious choices.
Fab: Where do gender and sexuality stand for you in your design process?
Flora Popradi: I often take inspiration from menswear because I love experimenting with those elements in my own wardrobe, and sometimes I create a unisex look.
Fab: What's next for you this year?
Flora Popradi: We would like to grow the product line and strengthen the brand's image. Embrace the Chilly Weather with Cukovy Puffer Jackets.
Fun Zone: #FabFast5
What do you miss the most about being a kid?
I miss not having to pay the bills.
Best colour in the rainbow ?
I'm forever a pink girl
Favourite chill spot?
Mikszáth square or the National Museum's garden in Budapest . I can't wait for the summertime to finally be able to lay on the grass and feel the warm hug of the Sun.
Your current favourite TV show?
I quite enjoyed 'UPLOAD ' on Amazon Prime. It made me really think about the future and the way we live as a society .
Your favourite sports team?
I don't have any , I'm a girly girl I don't watch sports