In an era of greenwashing and vague sustainability claims, INTERNATIONAL CITIZEN has emerged as an authentic force for change. What started as a sustainable luxury fashion blog in 2010 has now blossomed into a groundbreaking fashion brand based in Berlin, Germany. Annika Tibando, the visionary behind INTERNATIONAL CITIZEN, has embarked on a remarkable journey, redirecting her focus towards creating a brand that celebrates sustainability, transparency, and mindful design. With an unwavering dedication to making a genuine impact, Tibando is setting a new standard for accountability and craftsmanship in the industry. In this exclusive interview, we explore the inspirations behind INTERNATIONAL CITIZEN, delve into its sustainable practises, and uncover its exciting plans for the future.
Fab: You've had an impressive journey in the fashion industry, working with renowned brands and establishing your own consultancy. What inspired you to shift your focus towards ethical, sustainable, and environmental design, ultimately leading to the creation of INTERNATIONAL CITIZEN?
Annika Tibando: Sustainability has always been at the core of my being. It was only natural that when I started my own company, the foundation of the business would be established on these principles.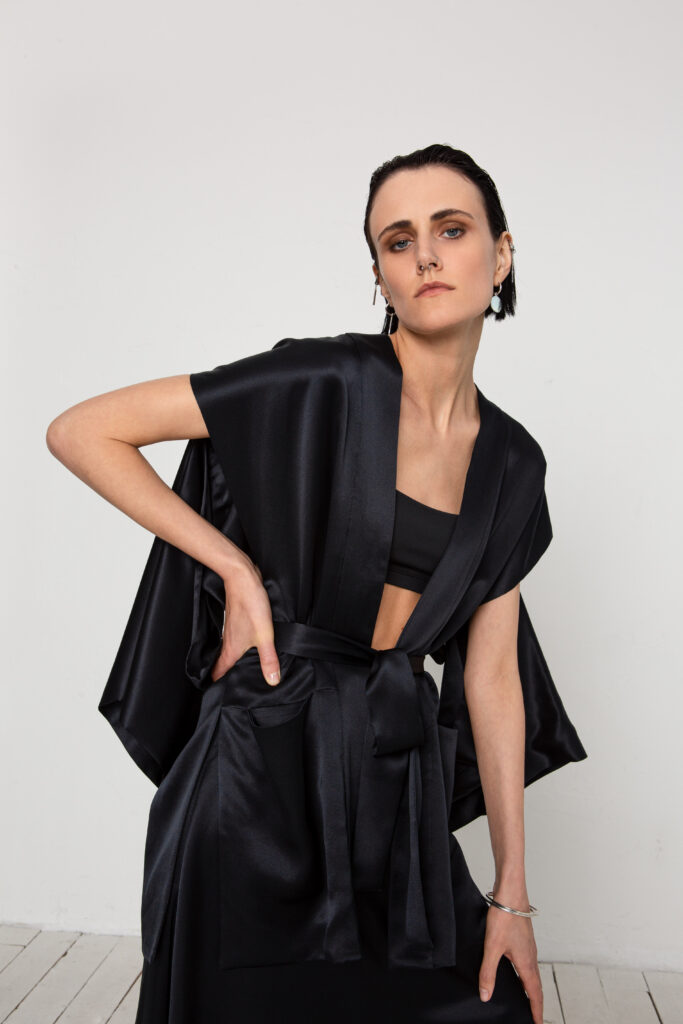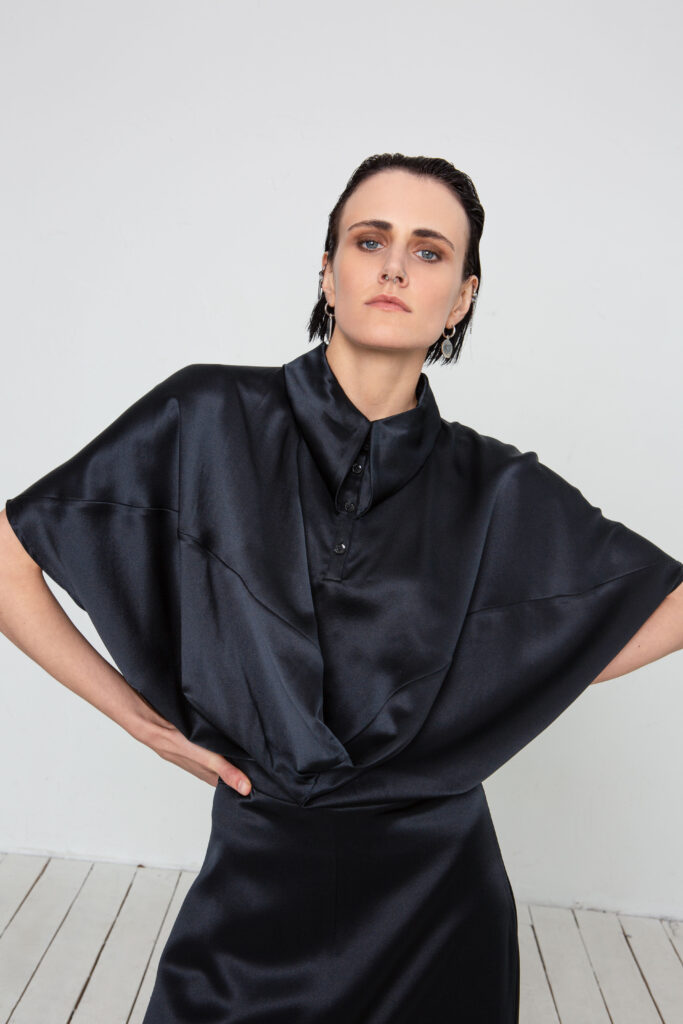 Fab: INTERNATIONAL CITIZEN started as a sustainable luxury fashion blog in 2010. I used it as a platform to educate myself about sustainability in the fashion industry, which brands were known for these initiatives, and how I could approach this area in a meaningful way.
Annika Tibando: In 2014, I created my own LLC company in New York City with this name to work as a freelance fashion design consultant, with the intention to start my own brand in due time. My years working as a designer in NYC informed not only my design ability but also allowed me to better understand the pressing concerns within the fashion industry.
In a turn of events, I moved to Berlin, Germany, in 2018 to everyone's surprise, including my own. What was meant to be a 6-month stint became my home and where I would officially begin the company.
Leading up to 2020, I began building the framework to start the company and applying the knowledge and experience I had gained to create a company grounded in sustainable initiatives and mindful design through spiritual practise.
Fab: Relocating to Berlin marked a significant turning point in your career. What unique opportunities does Berlin offer as a hub for sustainable fashion?
Annika Tibando: It did! I came here with no network or connections within the fashion industry in Berlin, let alone Europe. However, given the concept and vision I had for INTERNATIONAL CITIZEN, I knew that the company could be started virtually anywhere.
Berlin offered centrality to the European fashion industry and market. The city itself provided a calm place to create. Berlin as a city is quite focused on sustainable initiatives in all business sectors, so tapping into this was quite easy, and there are many resources that offer assistance, such as the Fashion Council Germany, which introduced me to the Berlin Partner (funded by the Government), which offers free assistance to connect companies with a vast European network of contacts in any field you are researching, such as manufacturers! Be the First to Experience the Exquisite Spring/Summer Issue of e-fab; Join the Fab community now!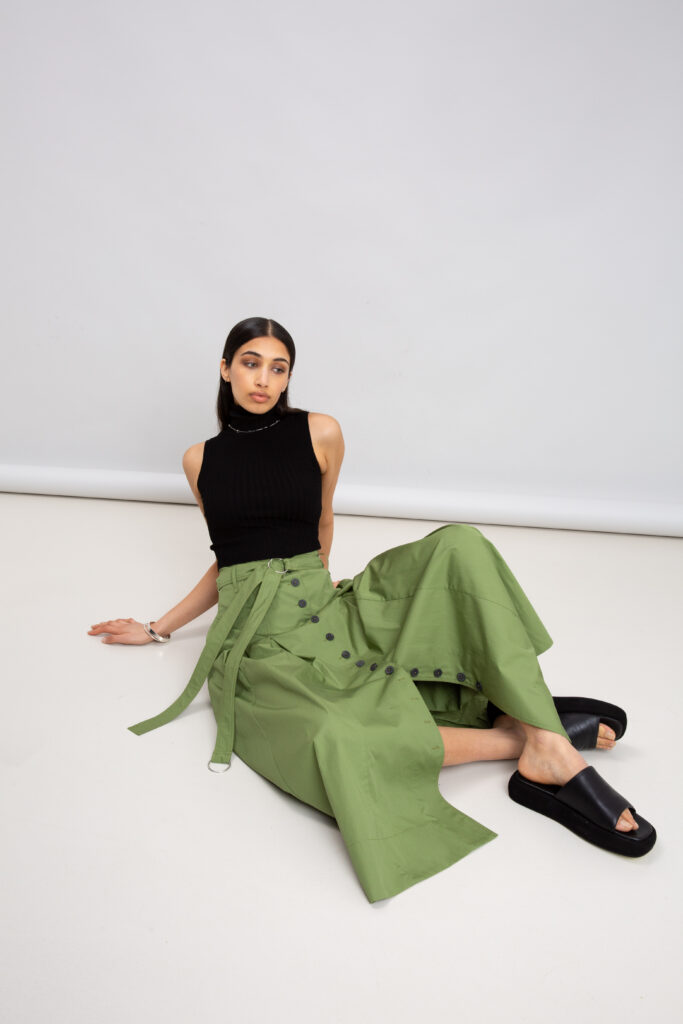 Fab: INTERNATIONAL CITIZEN emphasises transparency throughout its supply chain. Could you elaborate on the specific measures you take to ensure traceability, ethical sourcing, and fair labour practises, setting a new standard for accountability in the industry?
Annika Tibando: Yes, let me indulge. A large part of my time at the beginning of each season is spent researching new textile suppliers that offer certified sustainable fabrics. I specifically look for Wools that are "RWS", Responsible Wool Certified and Mulesing-Free. Cottons that are "GOTS" the Global Organic Textile Standard; Silk that is Organic with Blue Sign Certification, which eliminates harmful substances in the textile supply chain; as well as Synthetics that are "GRS" the Global Recycle Standard, specifically post-consumer recycled.
I ask for as much information as textile suppliers can provide about their traceability to the animal welfare of the livestock, the farmers, the farming land practises, the yarn cultivation, and waste management along the way. We work very closely with our garment manufacturers in Poland, making frequent visits each season. We know they have ethical standards, fair wages, and a respectful working environment.
The concept of universal identification is central to INTERNATIONAL CITIZEN. Can you delve deeper into how your brand strives to create garments that transcend cultural boundaries, celebrating diversity while fostering a sense of unity among wearers worldwide?
Many of our clothing pieces are intended to be unisex. However, everything begins with the female body. I apply traditional tailoring techniques from men's and women's construction to the female form. Essentially, I make accommodations for the size and silhouette to be worn by both bodies.
There are some styles that are inherently more feminine in their design and fit, while others are much more androgynous or masculine. What is interesting is to see how both males and females connect to what would be traditionally considered feminine or masculine shapes and fits.
Each season, I strive to make the representation of the models reflect and embody the ethos of INTERNATIONAL CITIZEN, as well as collaborate with talents that also embody these values. Our goal is to demonstrate that we can use clothing to be creative in our individuality and social avatars while recognising that deep down we come from the same source of consciousness, making us less dependent on what comes after I am.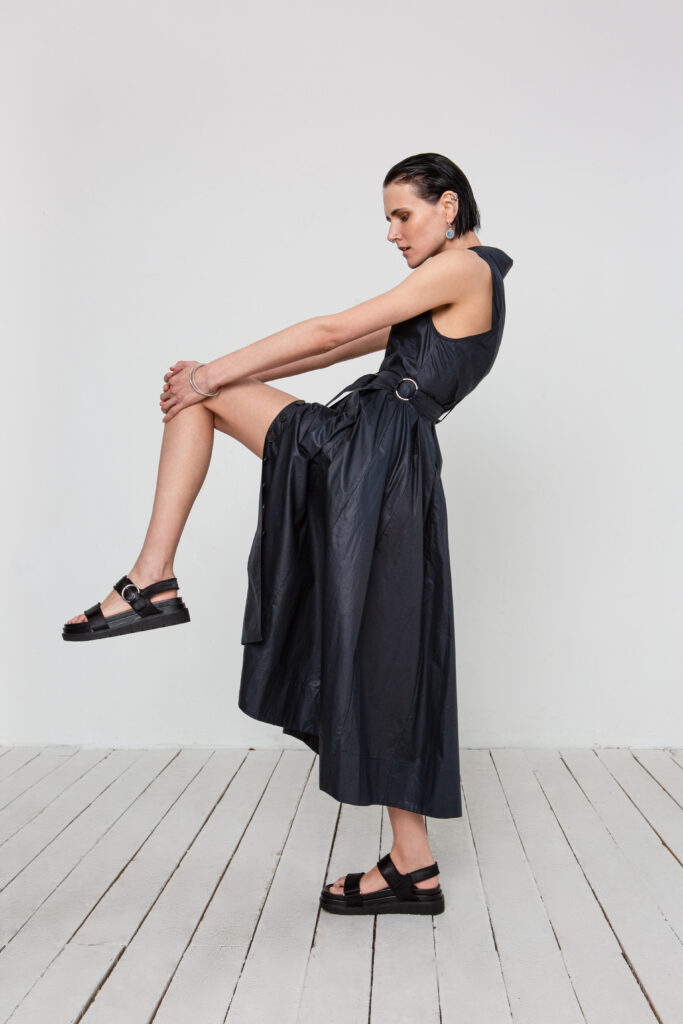 Navigating Uncertainties: Launching INTERNATIONAL CITIZEN During a Pandemic
Fab: The year 2020 was significant for the launch of International Citizen. How did the events of that year shape the brand's identity, and how did you navigate the challenges and uncertainties that came with starting a new venture during a pandemic?
Annika Tibando: Founding the company in 2020 was a coincidence; nevertheless, it felt right to bring the company to fruition during a time of so much upheaval and cultural shift. For me, it was a mass awakening and detachment from the previous cultural narrative I was accustomed to.
In terms of the processes of starting a company, it meant a slower start due to all the lockdowns, yet more time to be thoughtful about the vision and product development. It gave us more time to introduce the brand digitally to the industry and build an audience on social media. Meanwhile, we created a made-to-order D2C model that allows us to be agile in a fragile market while building our wholesale business as we emerged out of the pandemic and as the world opened up again.
Fab: Collaborations play a vital role in the fashion industry. Are there any exciting partnerships or collaborations on the horizon for International Citizen that will further enhance the brand's sustainable ethos?
Annika Tibando: Presently, we do a lot of collaborations with talent (online content creators, signers, actors, etc.), and while I have a number of brand categories I would like to explore, we have not initiated these just yet.
Currently, we are focused on building a stronger foundation for brand identity within the fashion industry!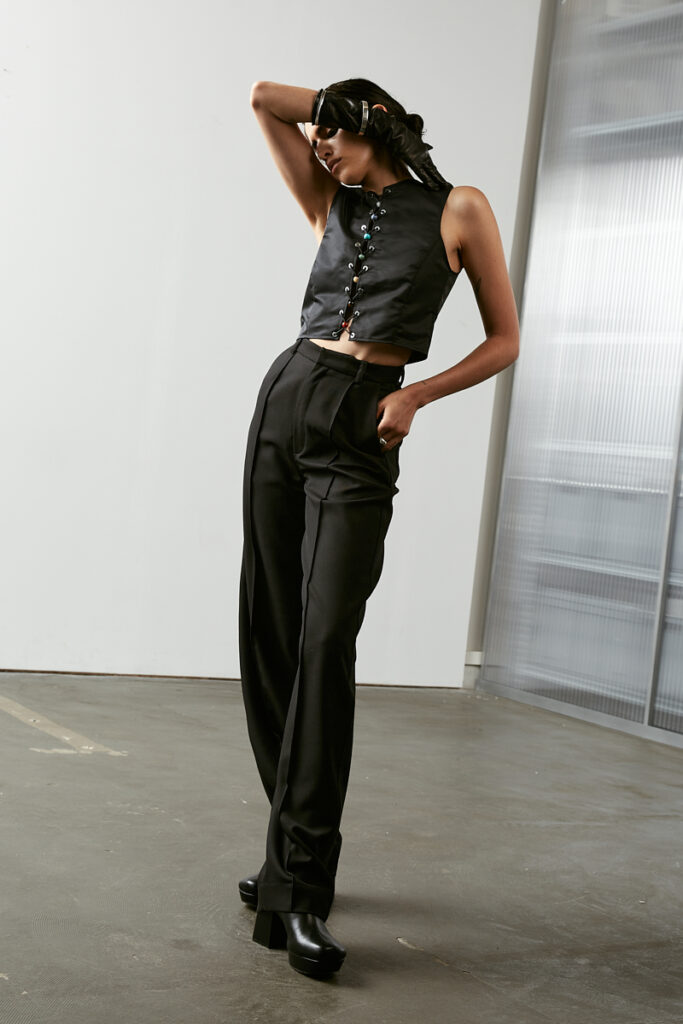 INTERNATIONAL CITIZEN is now available at FIRIS Boutique, Vienna!!!
How INTERNATIONAL CITIZEN Redefines Luxury through Quality and Craftsmanship
Fab: In the world of luxury fashion, there can sometimes be a misconception that sustainable and ethical practises compromise quality and craftsmanship. How do you challenge this notion with International Citizen, and what steps do you take to ensure that your garments are not only sustainable but also of the highest quality?
Annika Tibando: That is so interesting! One of my largest goals in developing a sustainable and spiritual/mindful brand was to make sure that it did not stereotypically look like what one would imagine, for example, hippie hemp clothing or yogi spirituality. It was very important that the clothing uphold the same technical characteristics of conventional fabrics and have the same level of craftsmanship as heritage luxury brands.
Aesthetically, the brand needed to resonate with consumers who do not place such importance or value on these matters but connect with the brand for its style.
We partner with the same textile manufacturers that work with major heritage luxury brands, so there is no question when it comes to the textile quality, while our manufacturers tend to be family-operated businesses with 30+ years experience in tailoring and high-quality craftsmanship.
Fab: The intersection of technology and sustainability holds immense potential for transformative change in the fashion industry. Is there any special way you and your brand embrace innovative technologies to enhance transparency and drive positive change?
Annika Tibando: We do not currently utilise any new technology in our company operations, aside from social media apps like Instagram and TikTok to build our community.
That said, I am very interested in how we can accept digital currency like bitcoin, adapt to Web3, and incorporate Blockchains to document and communicate our sustainable initiatives. Stay up to date on the newest in the world of Fashion, Arts, Beauty and Lifestyle; Follow FAB on socials.
Fab: Looking ahead, what exciting developments and future plans can we expect from International citizens?
Annika Tibando: In the next few seasons, you may be pleased to see the colour evolution with each collection and how it transitions to the next while we build on our core styles and strategically introduce new categories (whether it be by style, fabric, or product offering).
We look forward to broadening our wholesale business and gaining more brand visibility in the global market.
Related