For Autumn/Winter 2023–24, Anrealage uses fashion to explore the evolution of human perception and how every living organism, no matter how simple or complex, inhabits a world of its own.
Umwelta
Scientist of fashion Kunihiko Morinaga presents his own wearable take on Umwelt (the German word for "environment" or "surround-world"), a 19th-century concept developed by the German philosopher and biologist Jakob Johann Baron von Uexküll that explores how living beings perceive their environment.
The way different organisms perceive the world through sensory data is not "=." Seeing nature through the eyes of an insect, for instance, reminds us that things aren't necessarily what they seem. A yellow flower, and the Umwelt for bees which can see in the ultraviolet spectrum differs sharply from that of a human's perception of that flower. To help the bees target areas of nectar, the colour of the flower's centre is an intense reddish-purple, while other parts are monochrome.
[metaslider id="21461″]
For Kunihiko Morinaga, opening our eyes to the concept of different Umwelten serves as a metaphor for the need to celebrate diversity. "We are all one race, even if how I see my world is not equal to how you see your world," he says.
A New Materiality
With a collection blending classic '50s-inspired shapes and futuristic materials that change colour when exposed to natural sunlight (UV rays), Anrealage expands its portfolio of experimental photochromic materials produced in-house, adding faux fur, velvet, lace, knit, jacquard, and satin.
New colour developments for looks include yellow, beige, red, and light blue that morph into other shades in UV light. As the intensity of natural sunlight is ever-changing, the colours are constantly shifting. These garments return to their original colour in around three minutes when no longer exposed to UV rays.
Seemingly "=," silhouettes have no front or back. Instead, looks are based on "front/front" or "back/back" constructions,with symmetrical/asymmetrical forms highlighting Kunihiko Morinaga's mastery of pattern-cutting.
[metaslider id="21374″]
Wearable Umwelt | Anrealage
Pushing photochromic technology to new levels, Morinaga brings the ethereal concept of the flower woman to its most radical reality in human perception.
Pristine white looks, such as a satin dress with a giant crochet collar and pleated skirt, a lace jumpsuit, or a sculpted faux-fur high-neck dress, as well as velvet cocoon coats and dresses with petal collars, shift into another tonal range, thanks to photosensitive colours that are designed to evolve through the days and seasons, coexisting with nature and the environment.
[metaslider id="21471″]
To the deceptively simple melody and rhythm of Ravel's Boléro, "front/front" and "back/back" versions of outfits appear side by side, slowly changing into contrasting (or unequal) colours. One is turning pink and the other blue as ultraviolet light scans their surfaces. Looks slowly evolve through a variety of forms and colours evoking Earth's wondrous biological diversity, while the light also awakens textural fabrics woven with graphic patterns like stripes, checks, polka dots,delicate floral embroidery, or the Anrealage logo.
Accessories range from oversized corsages to photochromic shoes designed in collaboration with REOUTURE.
At this crucial tipping point in world history, the collection also serves as a manifesto for the preservation of nature and biodiversity, drawing scientific inspiration into a new narrative imbued with poetic ingenuity. Stay up to date on the newest developments in the world of fashion; join the Fab community now!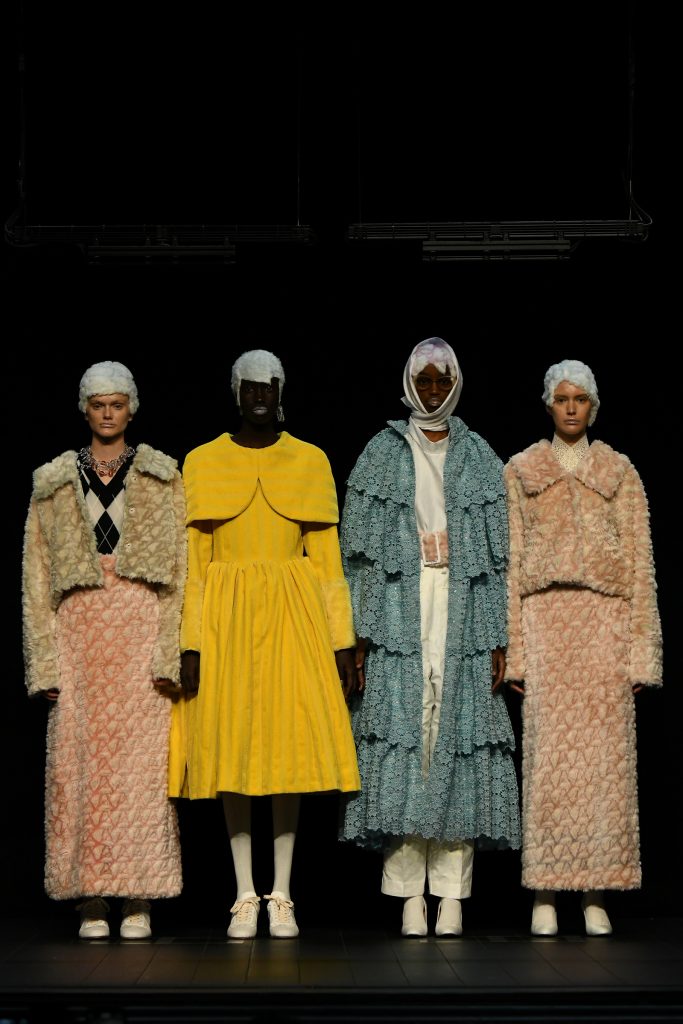 For the fashion world and beyond, it's time to push beyond the limits of our Umwelten, our subjective realities; to open up our receptors to different points of view and to things that exist beyond what we can perceive. To celebrate the rich variety of world views as being "=" to our own