Jumspuit Absoulut!
Somehow, the idea of wearing this 'almost a dress' but 'not quite a pair of pants' makes the iconic classic jumpsuit one of my preferred styles of clothing.
The jumpsuit was first created in 1919 to be worn by parachuters who were, literally, jumping out of planes, hence, the name jumpsuit. This piece of clothing was introduced to the fashion set in the late 1930's by Elsa Schiaparelli – a rival of Coco Chanel. With time, jumpsuits started to become more popular in the 1960's and achieved hyper-popularity in the 70's, worn by men and women alike! From Cher to Elvis, jumpsuits ruled the music industry.
One of the reasons, I can barely get enough of jumpsuits in my personal closet is the fact that I don't have to worry about any other piece of complimentary piece of clothing once I pull out this piece. The jumpsuit always carries a higher sense of style, it is quite versatile and transcends through seasons and trends making it a timeless must-have.
With all the different variations through styles, some of our jumpsuits come with collars while others with buttons-down Stylishly boasting a fancy tie-strap. Some are designed with a square shoulder and some accentuate your neck and shoulders through a halter-neck. Some explore the wide-leg style and some are cuffed, while some have short sleeves and some come strapless.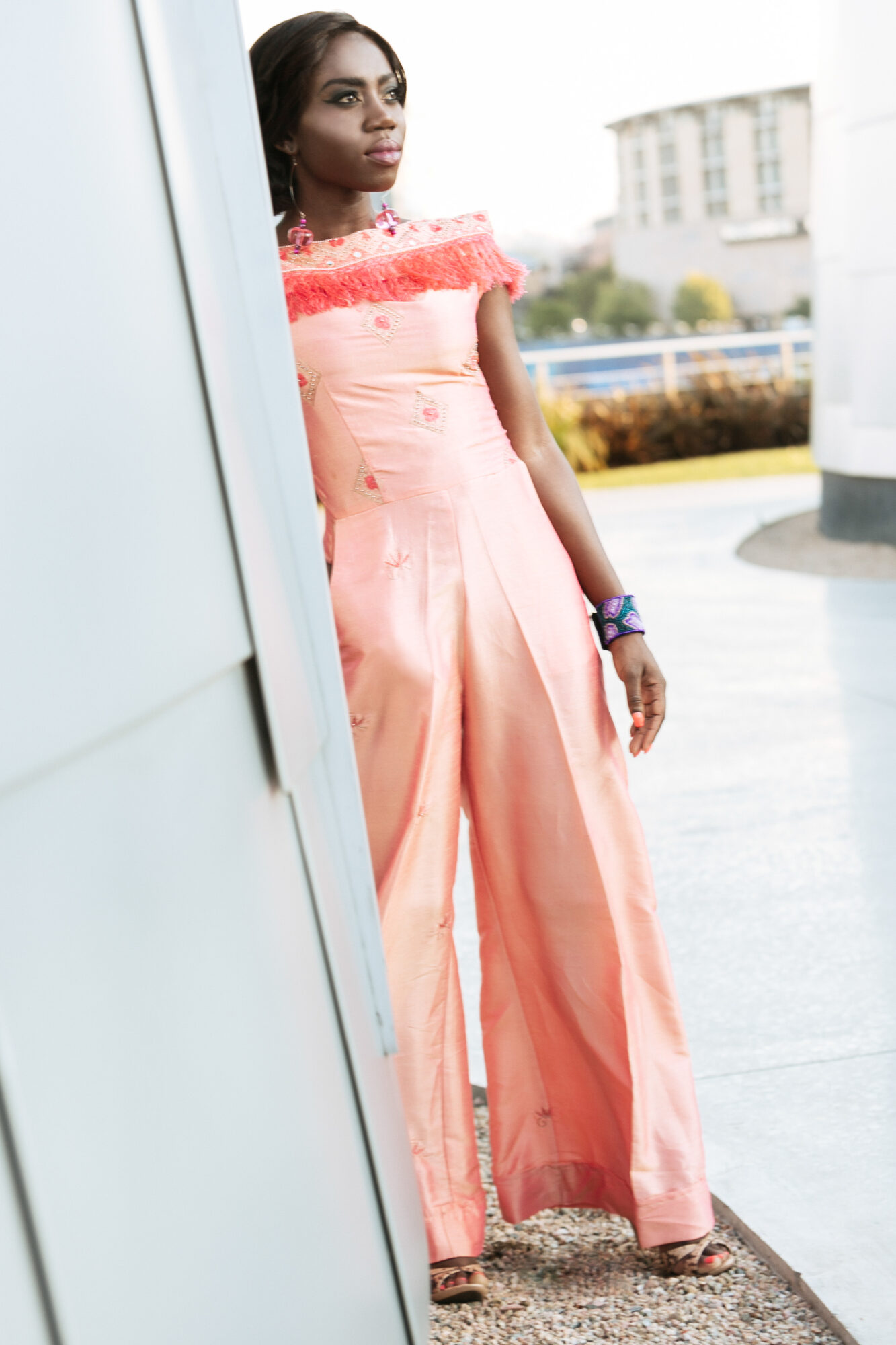 In this jumpsuit series, Sheila Afari is wearing our silk Liz Ogumbo tassel-square-shoulder jumpsuit that works great from day-2-night. Whether in sandals or flats for garden parties and sunsets or in heels, this versatile wardrobe staple jumpsuit will certainly still stir-up magic anywhere you take her.
As I worked through the design process to create this jumpsuit on a beautiful spring morning, the colour peach settled on my mind. Having earned its name from the exterior of the fruit of its namesake which has a blend of orange, yellow and white.
With the neutrality of the white softening the otherwise warm and bright yellow and orange of this colour, I have explored a combination of two contrast shades of peach to create a bold- dynamic palette with elements of gold to bring in a touch of sophistication.
Based on constant jumpsuit-lover demand, we will not be running out of jumpsuit styles because I will keep on creating new styles to refresh your jumpsuits wardrobe. Stand your chance to win a cool Liz Ogumbo customised jumpsuit just for you by following us on Instagram & Facebook @lizogumboFashion and share with us what you love about jumpsuits.
Yours fabulously,
Multidisplinary Creative Entrepreneur,