This Fall/Winter '23 season ushers in a new aesthetic ambiance dubbed "College-Chic," which is inspired by Eleventy Milano's codes of exquisite elegance wrapped in a sporty chic taste. A formal elegance, yet fresh, of the greatest quality and always subtle, with a little Preppy 60's flair to complete and invigorate our lifestyle. Eleventy's colour palette is a wonderful mingling of hues in various powdery subtleties. Warm colours include the new "cloudy white" as well as sand and camel. Cold colours, on the other hand, span from fresh tones of stone grey to dusty grey and cobalt blue. The "brown bistrot" emerges as a new colour that pairs wonderfully with creamy and natural qualities.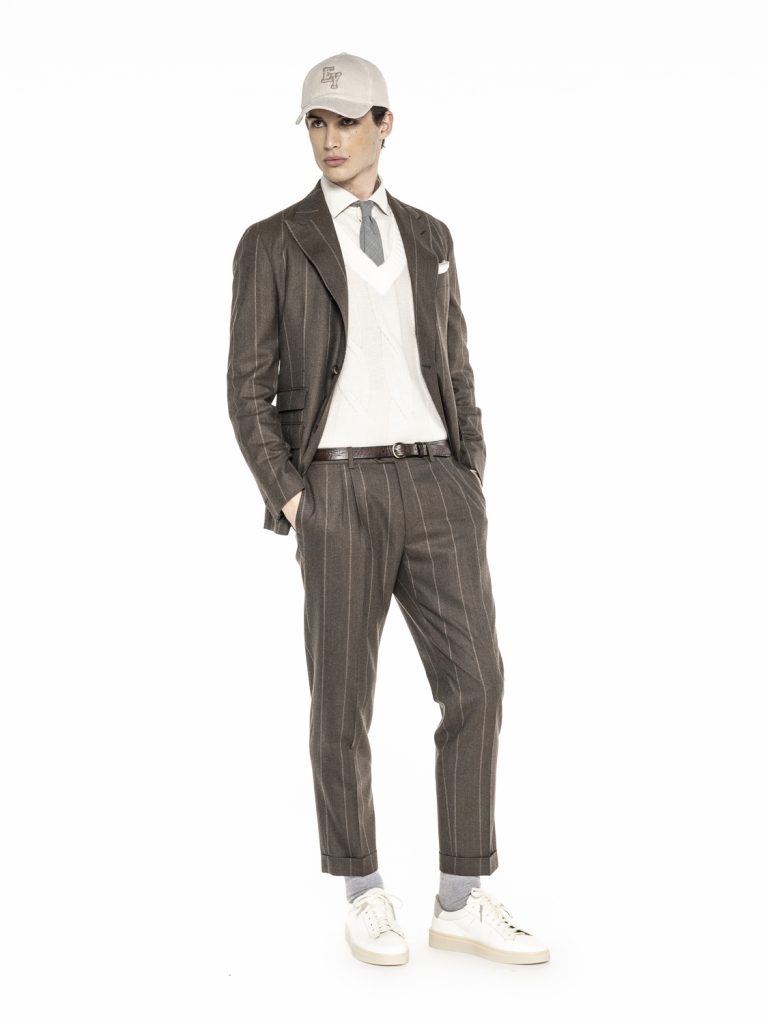 Eleventy Milano's Unquestionable quality
Eleventy's fabrics' file rouge is undeniable quality, which links the creation of high-end and valuable outfits. The blazer is unquestionably the most classic style, now available in a smarter fit with softer shoulders that improve a modern and fashionable image. The jersey knitted down jacket with goose feathers is the brand's cutting-edge style—a true novelty in the outerwear area. Knitted sweatshirts in premium yarns such as cashmere, alpaca wool, and silk are added to the line to be worn sporty chic or beneath blazers with college-printed or preppy patterns.
Eleventy Milano's Bimateric Garments, Iconic and Distinctive
The bimateric garments are the combo of different materials such as nylon and leather, woven and yarn. Denims are made of two ageing washing processes: a lighter one and a slightly darker one are offered in seasonal tints. Every ageing process adheres to environmentally friendly principles and employs the "flow" eco-bleaching technique, which allows for significant water savings.
The Eleventy Milano's reversible outerwear is not to be overlooked; they are sartorial marvels and the result of more than 18 hours of hard work to provide sophisticated yet casual garments.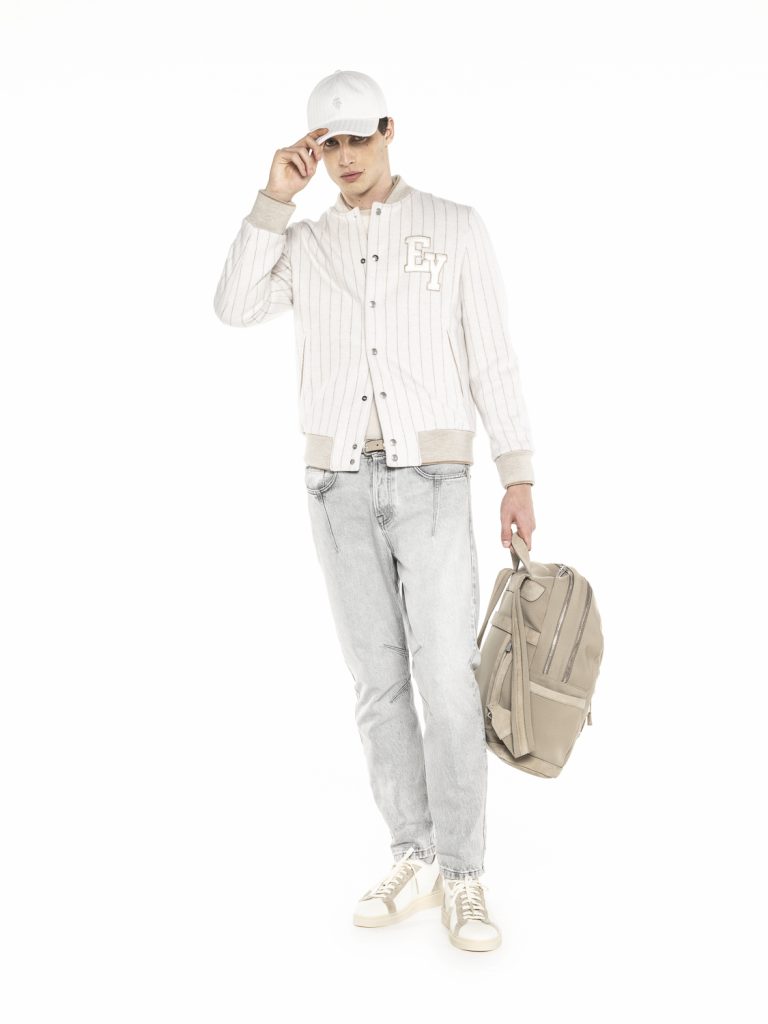 The shoe proposal involves a blending of materials and fabrics—the outcome of extensive research. Ultra-light soles with exclusive shapes are proposed with a number of details ranging from nylon to neoprene. Technical closures are made of sueded inserts and drawstrings, enhancing the unique look of the product.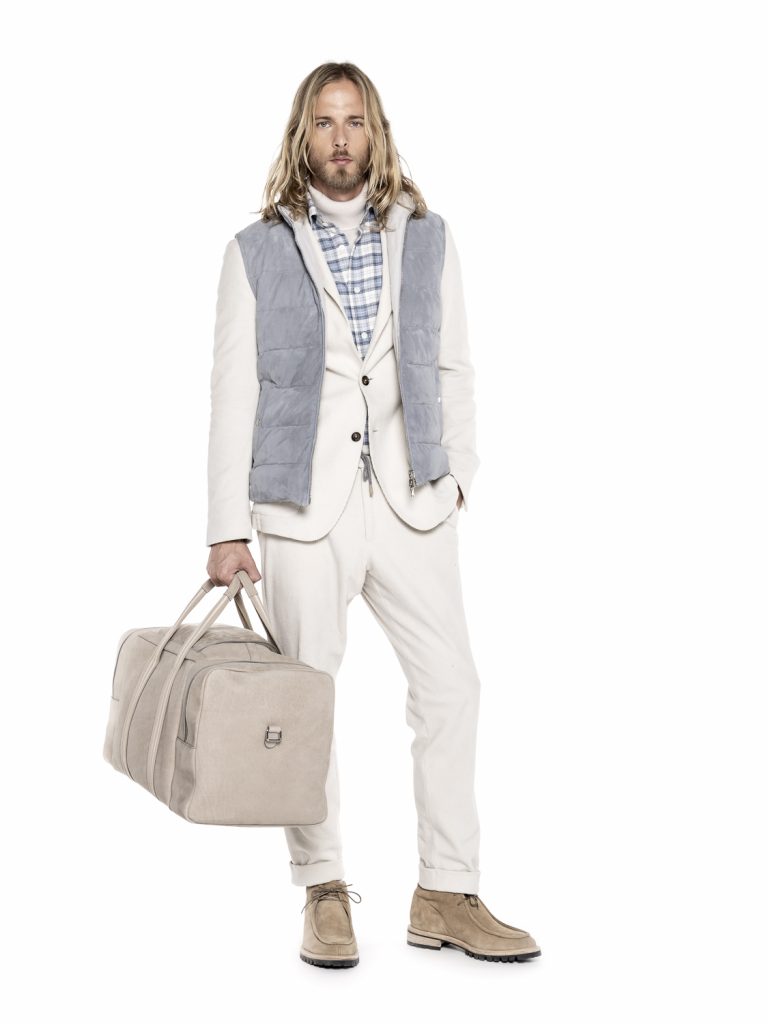 Eleventy man is a traveler
The Eleventy Milano's man is a traveler. A matching set of trolleys and back bags is showcased in quilted nylon and nabuk leather, along with weekend duffel bags. Passport and credit card holders round off the little leather products. Delicate, enveloping scent notes are vaporised or diffused by aromatic candles under the signatures of Platinum or Aimez- Moi new scents, the latter also available in travel size. Cashmere and silk blankets, along with Eleventy-branded double-faced ones, are the ultimate expression of this season's college mood.