The Limited Edition Esthechoc Beauty Chocolate Advent Calendar
'This is my favorite anti-aging product for three reasons: It's absolutely delicious. It's something I can do every day with no effort. It's anti-aging from the inside out so I'm nourishing my insides while getting
a glow.'  Huffington Post 
'A delicious treat with a purpose… The secret weapon celebrities and fashion insiders are using to keep their skin fresh-faced and glowing, this premium chocolate skincare treatment comes in pre-packaged squares for convenience on the go.'  Harrods

 Beauty Advent Calendars are the new 'must-have' in the lead up to Christmas for the skin-savvy. However, Esthechoc's award-winning beauty chocolate means you don't have to scrimp or scrooge yourself out of a delicious treat.
Chocolate advent is the nostalgia of childhood — now with Esthechoc's revolutionary technology, there is a "best of both world's" advent calendar for those who want to enjoy a luxury chocolate experience designed by world-class chocolatiers and scientists from Cambridge.
Esthechoc's Chocolate Beauty Advent calendar is so much more than a typical advent calendar. It combines festive tradition with a daily skincare routine. After ten years of extensive research, scientists at Cambridge Chocolate Technologies have developed the world's first chocolate and skin supplement in one.
The research shows that both the biochemical and metabolic conditions of the blood and skin are improved. The hero ingredient 'astaxanthin' is the world's most powerful antioxidants – heralded by doctors to be 5000 x more potent than vitamin C. Its effect is noticed after four weeks of using Esthechoc. So in the run-up to Christmas eating the one-a-day chocolate supplement can mean you will be well on your way to achieving a healthy glow over the holiday season.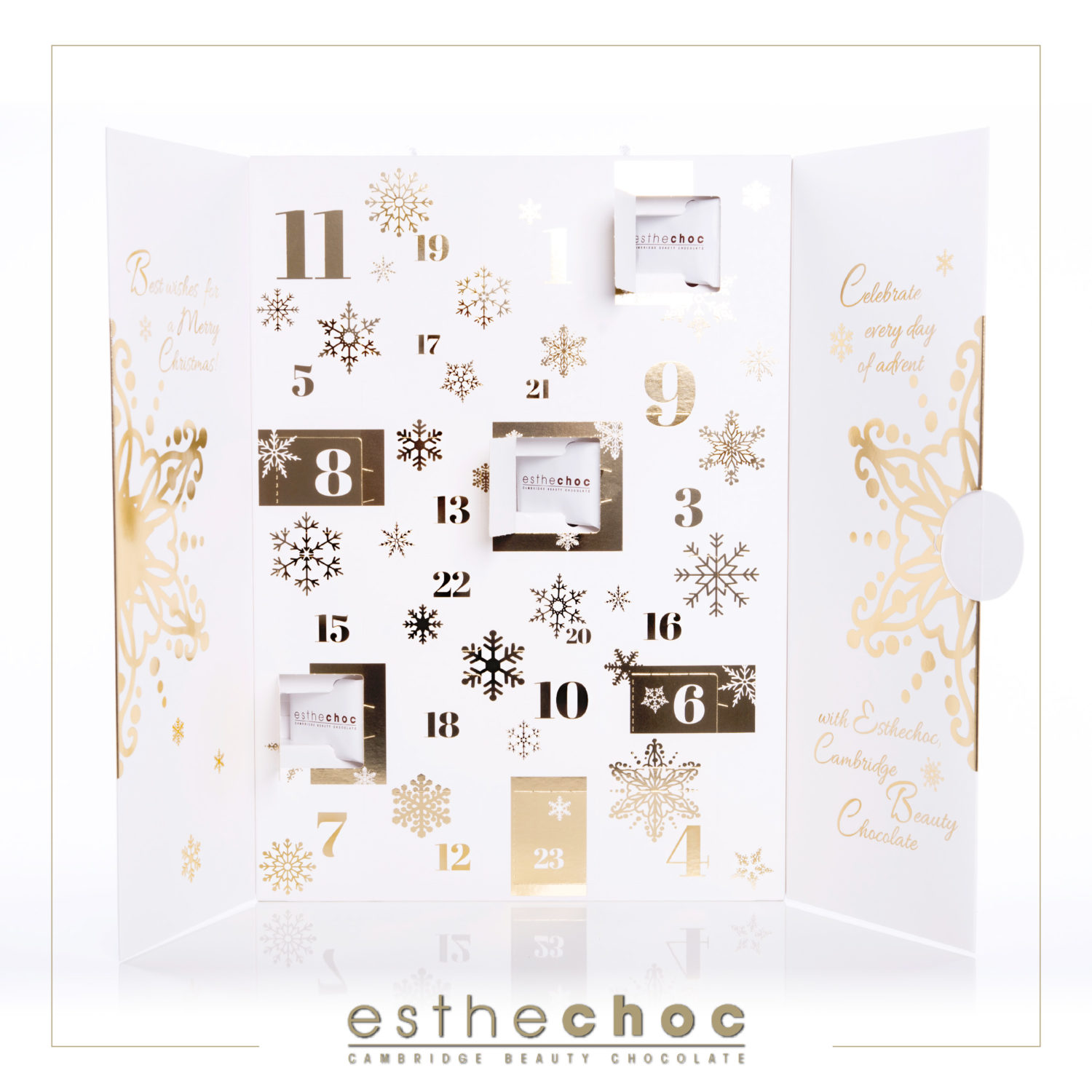 Esthechoc has all the pleasure of a traditional advent calendar but is absolutely guilt-free, as enclosed in every delicious dark chocolate bite are so many powerful ingredients. It's only 38 kcal a day, deriving butters from soya beans means it is also totally vegan-friendly. 
The perfect gift for yourself and others over the holiday season. It is much loved by celebrities and artists.  One small esthechoc a day can help to regain skin health and slow down the aging process.  Available online at www.esthechoc.com.
'It really is a dream supplement and a great addition to any skincare regime.'  Elle L, music artist and Esthechoc ambassador.
Get in touch: Alicia Psiuk, Marketing Director: [email protected]