Did he live up to the "hype"?  Reflecting on Virgil Abloh's year as the creative director of LV.
When news of Virgil Abloh being named creative director of Louis Vuitton broke, back in February 2018, the fashion community was smitten.  Abloh is the first black man in Louis Vuitton's 164-year history to début a men's-wear line. He's also the first man in his position to hail from a small midwestern town – Rockford, Illinois…not exactly a fashion capitol.  Up to that point, Abloh had largely been known to his colleagues in the fashion industry as the consumer-savvy, media hype-maker, artist who started off as a techno DJ.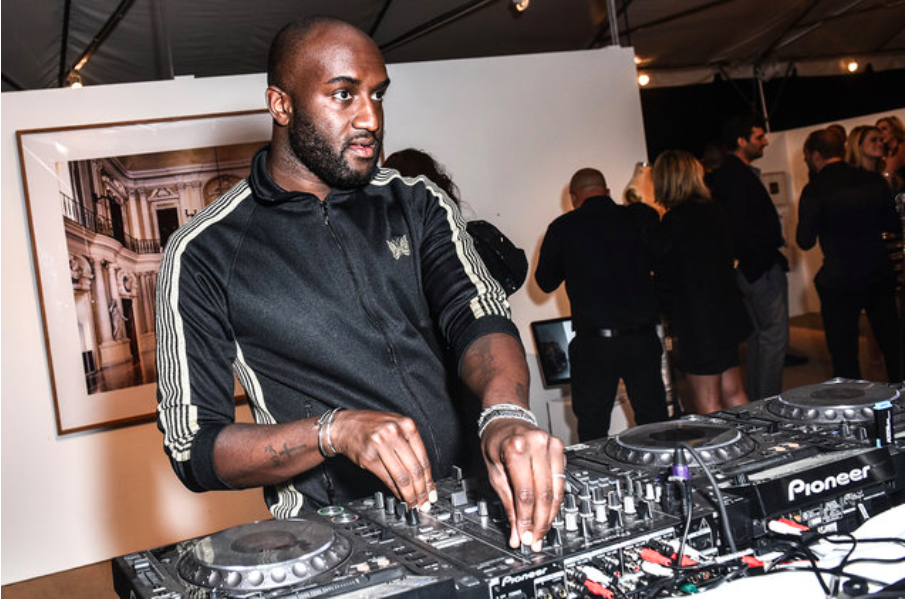 Virgil Abloh seen DJing at the 24th Annual Watermill Center Summer Benefit & Auction (Billboard, 2018)
Yes, that's right. Virgil has managed to become one of the most influential designers of our time without a fashion school education or any earlier study of fashion design. In fact, Abloh completed his undergraduate degree in civil engineering at the University of Wisconsin, in Madison, 2002.  In 2006 Abloh completed his master's degree in Architecture from the Illinois Institute of Technology. You can trace his engineering background in his clothing designs with the overwhelming theme of "deconstructivism" – breaking down an object into its basic parts.
The person who gave Virgil the passageway into the fashion industry was none other than Kanye West. The two met while both were interns at Fendi, in Rome, back in 2009. Louis Vuitton CEO Michael Burke recently told The New York Times, "I was really impressed with how [Abloh and West] brought a whole new vibe to the studio and were disruptive in the best way. Virgil could create a metaphor and a new vocabulary to describe something as old-school as Fendi. I have been following his career ever since."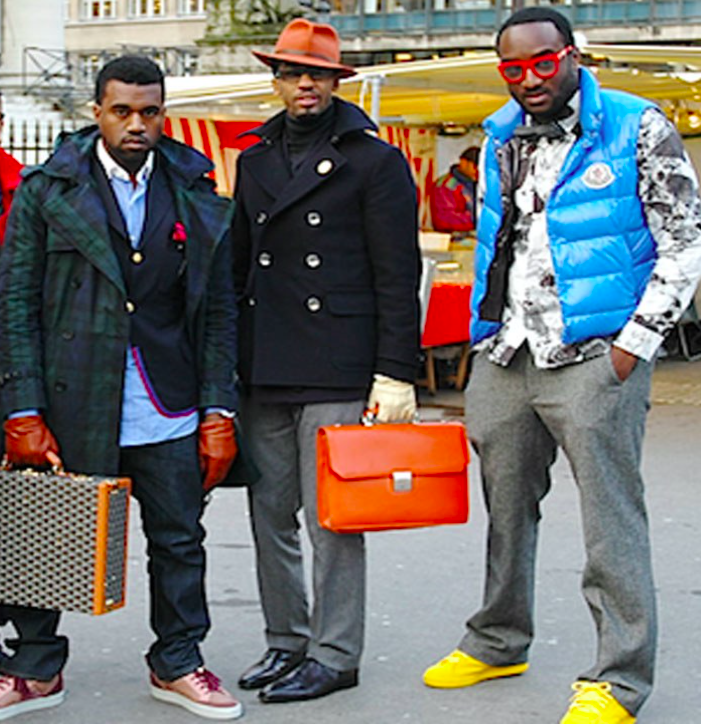 Kanye (left) and Virgil (far right) seen in Milan in 2009, while interning for Fendi. (Vogue, 2017)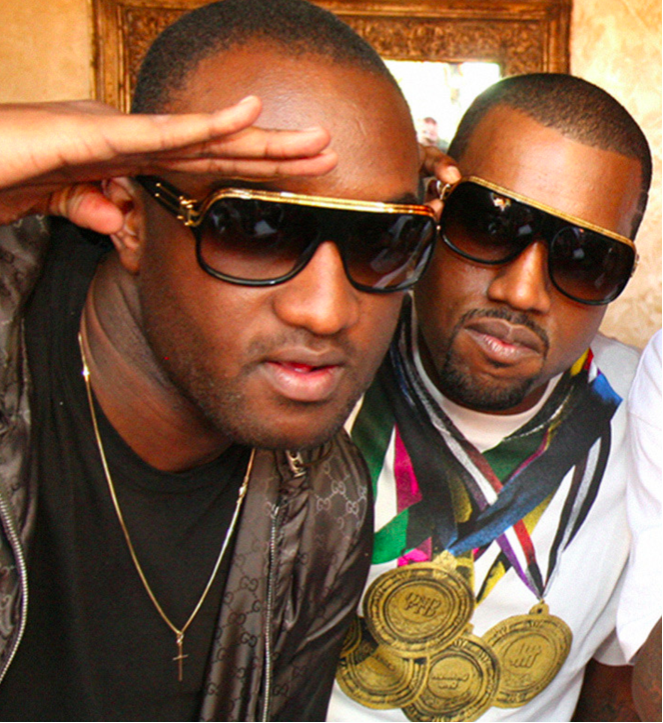 Virgil (left) as the creative director of Donda – Kanye's (right) secretive "creative think tank" formed in 2012 (Highsnobiety, 2018)
Other than a long list of celebrity friends, it is really the success of Abloh's Milan-based luxury-streetwear brand Off-White™, founded in 2013, that is to be credited for his name recognition and reputation as "Curator of Cool."  However, Off-White™ isn't Louis Vuitton. His appointment last February, raised a lot of eyebrows in the fashion world and many wondered whether he would be able to fill in the impressive shoes of Kim Jones, previous creative director of LV who is now in charge of Dior.
Now that we have seen two shows of Louis Vuitton a'la Virgil, what can be said about his leadership? First things first. The second collection (aka FW19) felt like a great development from his first collection (aka The Wizard of Oz inspired and widely misunderstood SS19).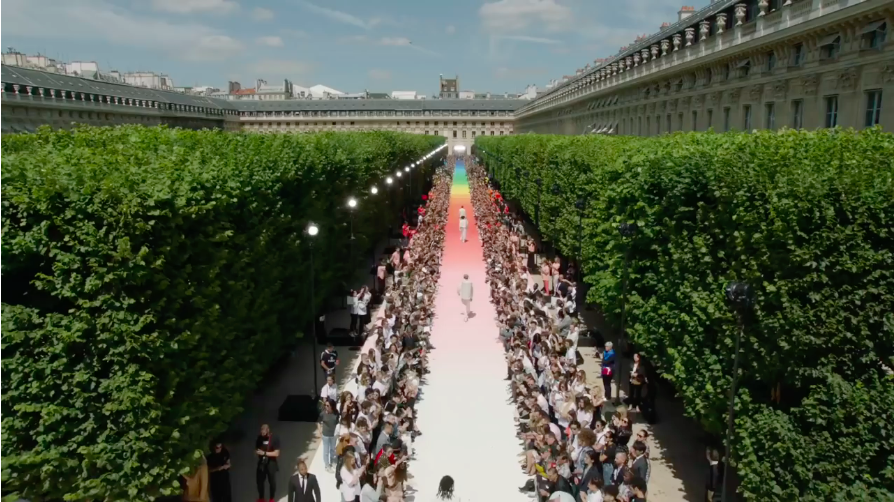 The Wizard of Oz Inspired Spring/Summer 2019 début collection by Virgil Abloh as the creative director of Louis Vuitton in Paris (YouTube, 2018)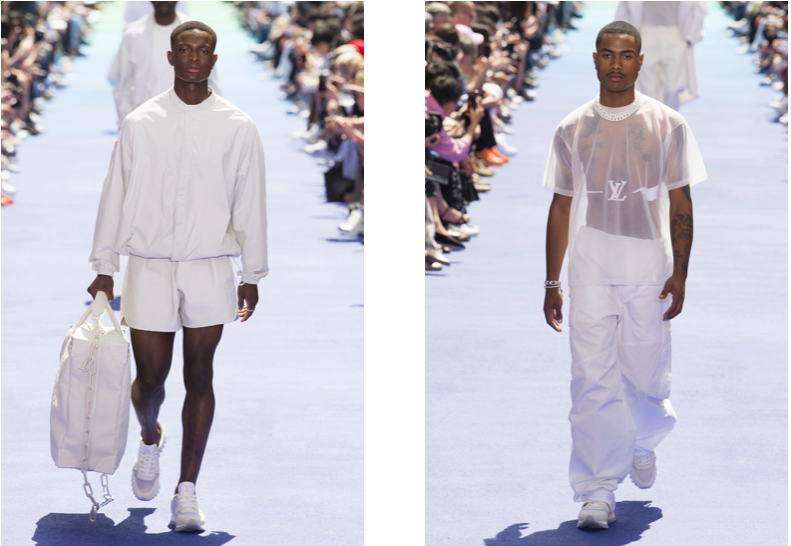 Looks from the Spring/Summer 2019 début collection (Vogue, 2018)
And while the début collection was a bright-and-sunny, rainbow-hued runway wonder, set in a boulevard of trees, his sophomore collection took on a darker, perhaps more serious tone. Though just like the all-white opening segment of last season's show, the AW19 collection opened with a wave of layered monochrome "asphalt grey." Both collections have shown us that Virgil chose a path of experimentation with layers, materials and textures. The final looks of Abloh's second collection were draped with flags from different countries, a tip to Michael Jackson's all time hit, "We Are The World."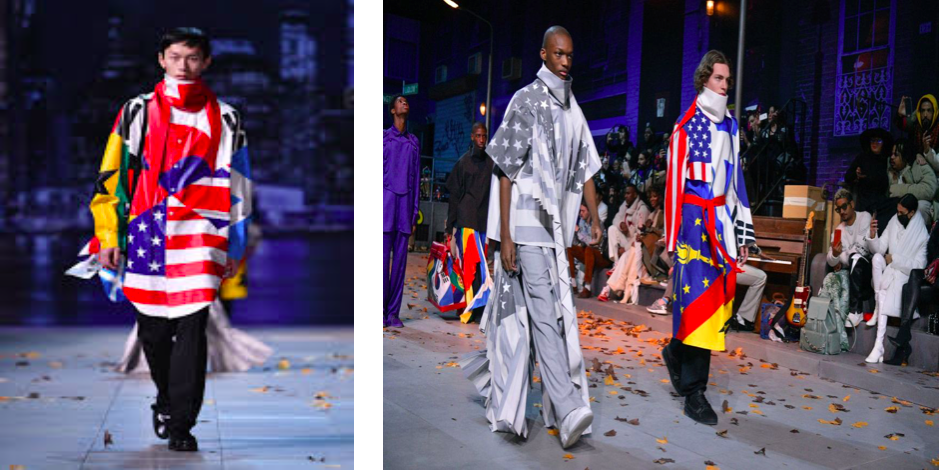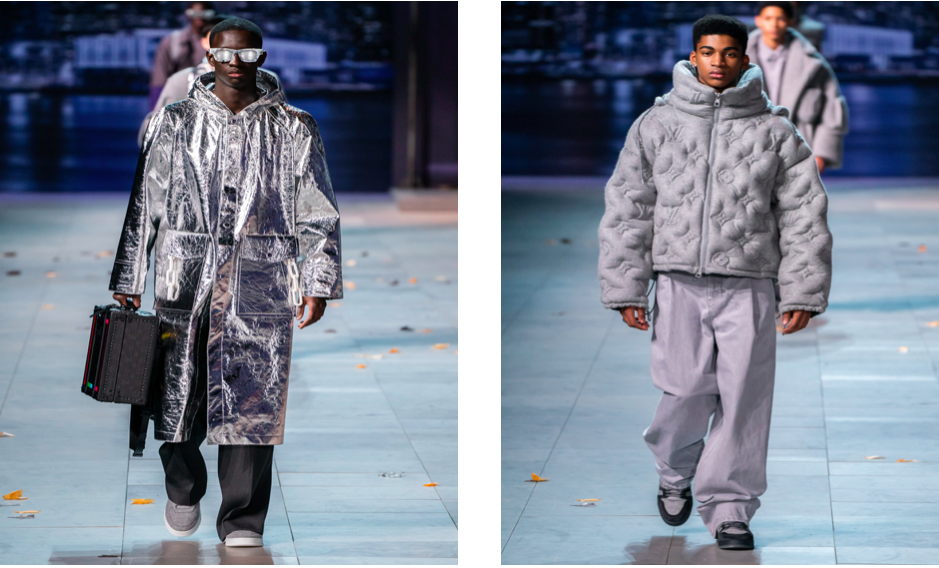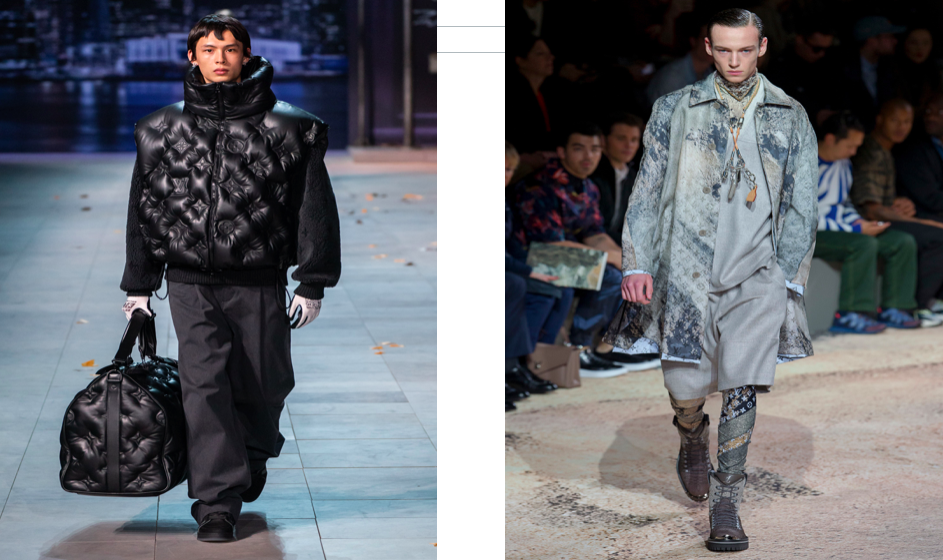 Looks from the Fall/Winter 2019 Louis Vuitton show in Paris
(Vogue, 2019)
This ties in nicely with Virgil's mission to frame Louis Vuitton's global political message and reinstate the spirited diversity linked to the travel DNA of the brand.  (LV's breakthrough was linked to the release of their travel accessories.)  If anything, Abloh has perfected sticking with a theme and keeping things "ON BRAND."
Despite having used a rhinestone-studded white glove for the show's invitations, Abloh states that his goal was never to replicate the costumed Jackson, but to use a deconstructed icon as a point of departure. Once again, Virgil uses deconstructionism to create fashion, this time by breaking up his idol's image into parts and using those ideas to sell clothes, something that appears to be happening in the fashion industry as a whole, over the last few years.
Altogether, one may conclude that by doubling down on sophisticated layering, grey suiting skirt-trousers, and elegantly detailed blazers, Mr. Abloh was able to quiet the notion by critics unimpressed with his first pieces, that he is best off sticking to graphics and hoodies. Once again, Virgil shows us that he is truly a Renaissance man and only time will tell what he has in store for LV in the future.